Bummed out that summer is almost over?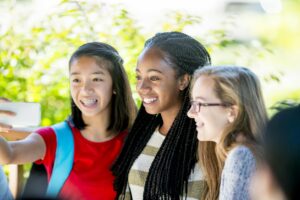 At Sosebee and Britt Orthodontics in Gainesville and Oakwood, GA, we feel this is a great time of year to revisit the basics of caring for your teeth during orthodontic treatment. Starting a healthy routine at the beginning of the school year will go a long way towards achieving a beautiful, healthy smile. When done right, good oral care maintenance could lead you all the way to next summer and beyond.
Here are five helpful reminders to kick off the fall session with clean teeth and a happy mouth:
      Follow the 2×2 Rule

      Avoid Crunchy and Sticky Foods

      Drink Lots of Water

      Plan Your Meals and Snacks

      Bring a Braces Care Kit
The 2×2 Rule
Brush your teeth twice a day for two minutes! Good oral hygiene (and successful orthodontic treatment) begins with consistently brushing at least two times a day. The 2×2 Rule is so easy to follow and so rewarding that you can't go wrong. To take your brushing habits to the next level, we recommend keeping a toothbrush in your backpack or locker so you can brush after lunch.
Avoid Crunchy and Sticky Foods
You have probably been told to stay away from raw, crunchy foods (such as carrots, apples, chips and nuts) over a hundred times – but it's important! Don't chew ice, gum, eat taffy, or nosh on caramels while undergoing orthodontic treatment. These are all ways to break or damage your braces, which could lead to extra office visits and longer treatment times.
Drink Lots of Water
Take advantage of water's bonus benefits! Not only does water keep you hydrated and healthy, it also helps teeth and braces stay clean throughout the day. Get a reusable water bottle and bring it to school with you every day. Reach for water instead of sodas and sugary drinks that can stain your teeth, leave residue behind braces, and cause cavities.
Plan Your Meals and Snacks
Being hungry at school is the worst! Take the time to plan braces-friendly meals and snacks so you can keep your energy and focus without damaging your braces. Check the weekly lunch menu ahead of time so you know which days you should bring a lunch if the cafeteria choices won't work for you.
Bring a Braces Care Kit
Part of maintaining a healthy smile during orthodontic treatment is making sure you have the tools to get the job done. That includes having a toothbrush, toothpaste, elastics, floss, threaders, and flossing picks. Keep some extra rubber bands in your locker or backpack for safe-keeping. Remember that it's important to wear elastics because they help move the teeth; failure to do so could result in longer treatment times.
To ask a question about your braces or schedule a free smile exam, contact us at Sosebee and Britt Orthodontics today. We send best wishes to all the students for a safe and rewarding 2018-2019 school year!