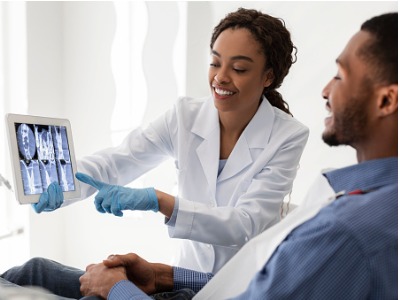 It is quite common that when you go to the dentist, they will take X-rays of your teeth. Dental X-rays are images of your teeth that your dentist will use to evaluate your oral health. These X-rays may seem complex, but they're actually very common tools that are just as important as getting your teeth cleaned. Keep reading for more information about dental X-rays from Dr. Glenn Sosebee and Dr. T. Todd Britt at Sosebee and Britt Orthodontics.
You may be wondering if dental X-rays are safe. Fortunately, they are! This is because these X-rays are used with low levels of radiation to capture images of the interior of your teeth and gums. These X-rays are incredibly important because they can help your dentist to identify problems such as cavities, tooth decay, and impacted teeth. Dental X-rays are typically performed yearly. However, they may happen more often if your dentist is monitoring a problem or performing dental treatment.
Dental X-rays do involve radiation; however, the exposed levels are so low that they're considered safe for children and adults. If your dentist uses digital X-rays instead of developing them on film, your risks from radiation exposure are even lower. Additionally, your dentist will also place a lead "bib" over your chest, abdomen, and pelvic region to prevent any unnecessary radiation exposure to your vital organs.
Pregnancy is an exception to the rule. Women who are currently, or planning on becoming pregnant, should avoid all types of X-rays. Be sure to communicate this with your doctor because radiation is not considered safe for developing fetuses. If you have more questions about dental X-rays or if there is any way we can help answer more dental questions, please contact our office.