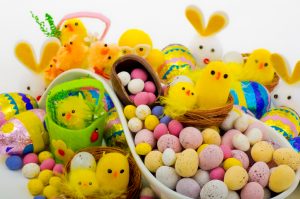 Easter is not just about egg hunts, candy, Cadbury eggs and chocolate rabbits. For Christians, Easter celebrates the resurrection from the dead of Jesus Christ. It is a moveable holiday or feast since it does not occur on the same exact day every year. Most Christian churches in the Western part of the globe celebrate Easter on the first Sunday following the full moon after the vernal equinox on March 21st. Thus it usually falls between March 22nd and April 25th each year.
The exact origins for the name of this celebration are complex and there are many theories. Some think it is named after a Teutonic goddess of Spring Eostre. Still others believe it comes from a Latin term hebdomada alba or white week to celebrate the white clothing of those that were baptized during that time.
Although Easter is a religious event, it has also become a commercial holiday with marshmallow chicks, jelly beans and all kinds of chocolate bunnies. Even the White House has an annual Easter egg hunt for hundreds of children in the area. It is also the time for "Mardi Gras" in New Orleans.
Here are some fun Easter facts:
• Total annual spending on all related products $14.6 Billion
• Total annual spending on candy $2.1 Billion
• Average annual amount spent by a family on candy, clothes etc. $225.43
• Pounds of candy purchased annually 120 million pounds
• Number of jelly beans made 16 Billion
• Number of chocolate bunnies made for Easter each year 90 million
• Percentage of people who say Chocolate Bunnies should be eaten ears first 76%
Sosebee and Britt Orthodontics realizes Easter is a time of joy and celebration but asks parents to be smart when doling out the candy to their children. Candy is meant to be a treat, but even when consumed in moderation some varieties push the wellness envelope. To have your sweets and stay healthy too, limit candy that's particularly high in sugar, unhealthy fats and artificial ingredients. Some types of candies can be more dangerous to the teeth. Candies such as Sour Patch Kids, Candy Corn, Butterfinger bars and even M&Ms and Jelly Beans contain artificial dyes and tons of sugar and other ingredients that can get stuck in teeth.
We don't want to spoil the fun so enjoy your Easter Holiday but be watchful about what kinds of treats your kids are eating.
If you have any questions or would like to schedule a complimentary exam, please feel free to contact our office in Gainesville or Oakwood GA. Happy Easter!