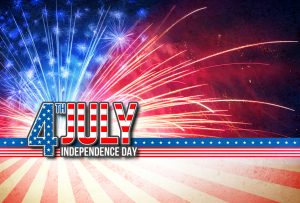 As Independence Day, July 4th, rapidly approaches, it's clear we are already more than halfway into the year and more importantly … summer has arrived. Our team recently researched some fun facts about our nation's favorite holiday to showcase why we love celebrating the day which hallmarks our nation's independence.
Did you know July 4th, or as it is commonly referred to, Independence Day, has only been a federal holiday since 1941? The tradition still has roots though going all the way back to the 18th century and the American Revolution (1775 – 1783). July 4th has been celebrated as the birth of American independence since then and is often celebrated with fireworks, parades, concerts and of course, barbecues.
Independence Day Fun Facts
? The first Independence day celebration took place in Philadelphia on July 8th, 1776 … not July 4th
? This was also the day that the Declaration of Independence was first read in public after the ringing of the Liberty Bell
? John Hancock is the only person to actually sign the Declaration of Independence on July 4, 1776
? All others signed at a later date
? Thomas Jefferson and John Adams, who signed the Declaration, passed away on the 50th anniversary of the Declaration of Independence
? Legend has it, Ben Franklin wanted a turkey, not a bald eagle, to represent the United States on its flag
? Only 2.5 million people lived in the US in 1776
? About 314 million people live in the US today
Visit Kidshealth.com to view safety precautions for you and your family for this July 4th. Here you can find tips about fireworks and others way to stay safe while you celebrate.
We hope you enjoyed our 4th of July trivia! Share with your friends and family members! Stay safe and enjoy your summer. Happy Fourth of July from the team at Sosebee and Britt Orthodontics in Gainesville and Oakwood GA!