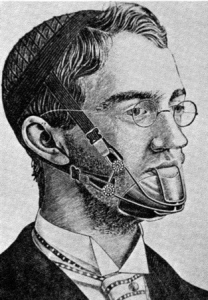 Orthodontics evolution…for you history buffs, did you know that archaeologists found crooked teeth in human remains dating back 50,000 years as reported by Norman Wahl in the AJODO ?
Like days of old, the aesthetics of teeth thru time has always been the primary concern when it comes to our smiles. However, it was the occlusion (bite) that gave orthodontics its scientific foundation and why it has progressed into advanced technology available today with traditional metal braces, clear braces, and clear aligners called Invisalign.
Lets Follow the Orthodontic Timeline
Ancient Times
While very crude in nature to orthodontic treatment today, Egyptian mummies were found with metal bands around their teeth and archaeologists believe they used cat gut to tie the bands together to move them. Primitive orthodontic appliances were also found with early Greek and Roman artifacts.
Recorded texts were found as early as 25 BC –AD 50, recommending if a second tooth comes in before the baby tooth is lost, remove it and then push the new tooth forward with your finger until in place. It still is good advice today, especially since you still find kids today trying to push their teeth into position on their own.
16th – 18th Centuries
Not much happened in the "Middle Ages" but in the 16th century, progress was made. Dentists were called "operators for the teeth" and used waxed impressions. Plaster of Paris impressions were in regular use in Paris in 1756. Malocclusions or bad bites were called "irregularities" and tooth movement was called "regulating"
In the 18th Century, France was the leader in the field of dentistry. Pierre Fauchard has been called the "Father of Modern Orthodontia". He was the first to give orthodontics a scientific foundation. Below is a drawing of Fauchard Braces. At that time, little attention was paid to bite function and only placed on upper teeth. Treatment was reserved for the wealthy since it was so expensive.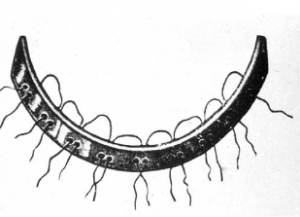 The US Steps Up in the 19th Century
In 1822, J.S. Gunnell invented a form of headgear that fastens to the jaw from the outside of the mouth to exert gentle pressure on the teeth. In 1840, Chapin A. Harris published the first classic book on dentistry, "The Dental Art," discussing soldering knobs on bands (brackets) to assist with tooth rotation, and applying gold caps to molars (molar bands) to open the bite. When Charles Goodyear invented vulcanized rubber in 1839, in 1846, E.G. Tucker became the first American dentist to use rubber bands in orthodontic appliances.
Dr. Edward Angle, also called the Father of Modern Orthodontics, identified the true relationship of the malocclusion (bad bite and misaligned teeth) and offered scientific solutions with effective orthodontic appliances beginning in 1880.
Today in the 20th Century
Prior to the 1970s, orthodontists wrapped metal bands around each individual tooth and each band was connected by a wire and slowly moved into position. But the invention of dental adhesives allowed them to bond the brackets to teeth surfaces. Meanwhile, stainless steel replaced gold and silver as the most popular choice for wires due to its ability to manipulate, reducing the cost of braces significantly. Lingual braces, which run along teeth's inside surfaces instead of outside, were also first introduced in the 1970s.
In the 90's, special heat-activated, nickel-titanium metal discovered by NASA in the 60's became available and has been instrumental in the fabrication of arch wires which move teeth faster, with less discomfort, and requires fewer adjustments. Treatment that once took 4 – 6 years now can be completed in two years or less.

Invisible Braces Gained Popularity
In 1997, Invisalign, a transparent, removable aligner was invented by Zia Chishti. Instead of upper and lower braces attached to each tooth and highly visible, a series of clear aligners are worn in succession to move teeth. The aligners are fabricated using 3D computer technology based on patient impressions. Unlike regular braces, Invisalign can be removed for eating and brushing and not easily detected when worn, making it a great solution for teens and adults self-conscious about wearing braces.
Orthodontics Has Come a Long Way
In the past, orthodontic treatment was reserved for the wealthy or patients with extreme deformities of the teeth and jaws. Today, orthodontics is considered a routine dental procedure that most kids, teens, consider a rite of passage and many adults undergo to create beautiful smiles and improve dental health and self-esteem.
If you or someone in your family is considering orthodontic treatment, contact our Gainesville or Oakwood GA office for a complimentary evaluation. At Sosebee and Britt Orthodontics we offer the latest in leading edge orthodontic treatment to help you create the beautiful smile we all deserve.