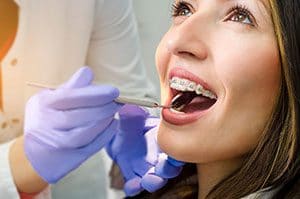 Did you know that orthodontic treatment is more than just straightening teeth? The American Association of Orthodontists (AAO) states, "The goal of orthodontic treatment is a beautiful smile and a good bite—meaning straight teeth that mesh well with the teeth in the opposite jaw and look great." A straighter smile isn't only good for aesthetics, it can also make it easier for you to bite, chew and even speak.
Cost vs. Value
Compared to the drastic increase in the price of a house or car in the last 20 years, you will get more value with orthodontic treatment as it typically lasts longer than most people keep a car or even the same house. With proper oral hygiene, the beautiful new smile you achieve with Drs. Glenn Sosebee and Todd Britt at Sosebee & Britt Orthodontics can last a lifetime at an unbelievable value.
Speaking of value, let's discuss the value of the orthodontic treatment process itself. No two smiles are alike and, for this reason, we spend an enormous amount of time and energy into the treatment of each one of our patients. Using the latest advances in orthodontic and dental technology, we are able to create custom orthodontic treatment plans based on your specific needs.
From your first visit, the doctors perform a clinical exam to determine if orthodontic treatment is necessary or not. Next, your diagnostic records are taken and analyzed in order to diagnose potential orthodontic problems. A treatment plan is then created detailing step-by-step how these oral issues will be resolved. Depending on your plan, treatment can take anywhere from 18 to 24 months to complete with visits to our office every 6 to 10 weeks for adjustments.
Life After Treatment
Once treatment is complete and your teeth and jaws are in their proper position, the braces or other orthodontic appliances are removed. Retainers are provided the same day to ensure that the teeth stay in their proper positions. Retainers are worn nightly for a prescribed amount of time dependant on each patient's unique situation. Wisdom teeth are also monitored so that they do not compromise the results of the treatment.
While orthodontic treatment may seem to like an investment, it is. It is an investment in your future and health that produces unlimited benefits throughout your lifetime. Trust that our years of experience and attention to detail will help you achieve the smile you've always wanted.
Curious about orthodontic treatment for you or your child? Contact our office to schedule your free consultation.