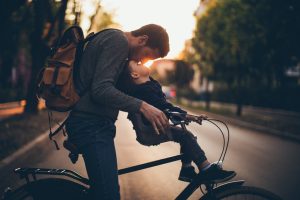 Father's Day is certainly not the oldest holiday in the World or even in America. Usually, Dads are celebrated by getting a day to do whatever they want…which most Dads believe to be a great idea. You will see Dads playing golf, fishing, bowling, working on their Model-T-Bucket hot rod or just plain napping in front of the TV.
Now Dads may not be quite as busy as many Moms regarding the chauffeuring aspect, but we must admit most do their part in driving the kids to camp, to soccer, to baseball and yes…even to the orthodontic office of Sosebee and Britt Orthodontics.
Father's Day History
So how did the celebration of Father's Day come about? Well here is some history:
Wikipedia describes it like this…Father's Day is a celebration honoring fathers and celebrating fatherhood, paternal bonds, and the influence of fathers in society. In Catholic Europe, it has been celebrated on March 19 (St. Joseph's Day) since the Middle Ages. This celebration was brought by the Spanish and Portuguese to Latin America, where March 19 is often still used for it, though many countries in Europe and the Americas have adopted the U.S. date, which is the third Sunday of June. It is celebrated on various days in many parts of the world, most commonly in the months of March or May. It complements similar celebrations honoring family members, such as Mother's Day, Siblings Day and Grandparents Day.
Father's Day is celebrated worldwide to recognize the contribution that fathers and father figures make to the lives of their children. This day celebrates fatherhood and male parenting. Although it is celebrated on a variety of dates worldwide, many countries observe this day on the third Sunday in June. This year in 2017, Father's Day falls on Sunday, June 18th.
In America, it all began when a young woman wanted to honor her dad. In May of 1909, Sonora Smart Dodd of Spokane, Wash., sat in church listening to a Mother's Day sermon. She decided she wanted to designate a day for her dad, William Jackson Smart. Dodd's mother had died in childbirth, and Dodd's father, a Civil War veteran, had taken the responsibility of single-handedly raising the newborn and his other five children. June 17, 2010. The following year, Dodd wanted to celebrate Father's Day on June 5th, her father's birthday and petitioned for the holiday to be recognized in her city. Needing more time to arrange the festivities, Spokane's mayor pushed the date back by two weeks, and the first Father's Day was celebrated on June 19, 1910, according to the Spokane Regional Convention and Visitor Bureau.
Well, the entire Team at Sosebee and Britt Orthodontics in Gainesville and Oakwood GA will let Dad decide how he wants to spend his special day. But, we want to thank you for your efforts to assist and take care of your children in every way possible. Thank you and Happy Father's Day to you Dads. FORE!!!!