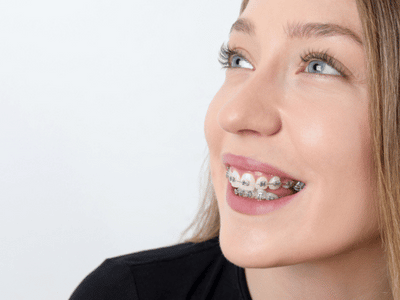 One of our most common questions from patients is "What can I eat with my braces?" or "What foods do I have to give up?" and we have a few simple guidelines to share. Getting braces is a big change, and on top of the wires, brackets, or Invisalign trays, there's a whole new set of habits you must get used to.
 Luckily, we're here to help and answer any questions you may have during treatment! If you keep these in mind, your smile and diet will be happy and healthy!
Suggestions and Tips for Braces Eating
When eating with braces, we always recommend brushing after meals. If you forgot your toothbrush, you could run to the bathroom and swish some water around to loosen stuck food particles. 
If a bracket or wire comes loose while eating, you should call your orthodontist as soon as possible to replace or repair it. Keep any pieces of your appliance that fall out for your appointment! As always, contact your orthodontist with questions – we're here to help! 
Why Do We Recommend Soft Foods?
When you've just had braces tightened, your teeth and gums are sensitive. Typically, patients see mild soreness after appointments. One way to make this time more comfortable is to stick to soft foods, this way your teeth don't have to work as hard! With new hardware in your mouth, it takes a bit to get used to speaking and chewing again. This is another reason we like to recommend soft foods; it helps you avoid scratching or cutting your cheeks. 
There are also crunchy, sticky, and chewy foods that frequently lead to broken brackets and loose wires. Avoiding these foods means avoiding extra visits to your orthodontist.
Which Foods are Best for Braces?
To help with pain after an appointment stick to the soft and cold foods, they aren't hard on the teeth and the cold is numbing. When soreness subsides, you can return to the normal diet, avoiding problem food groups.
We know that's a lot – but here are some soft foods for braces. 
Tofu

Noodles

Soft Bread

Soft Cheeses

Applesauce

Grits

Couscous

Rice

Pancakes

Oatmeal

Scrambled Eggs

Yogurt

Fruit Smoothies

Soft Fruits (Bite-Size!)

Guacamole

Hummus
Which Foods Can I Not Eat with Braces?
When dealing with which foods to cut out after getting orthodontic treatment, we want to avoid foods that could damage braces or appliances, or foods that are easily stuck in hard-to-reach places. Anything extra-chewy or extra-sticky should be avoided. Some problem foods are popcorn, chewy candy, gum, hard pizza crust, hard candies, or apples and corn on the cob.   
If you avoid these food groups and stick to a soft diet after appointments, it's easy to manage any pain that goes along with moving teeth. And, if you keep these foods in mind, you're braces are less likely to suffer breakage as your treatment progresses!