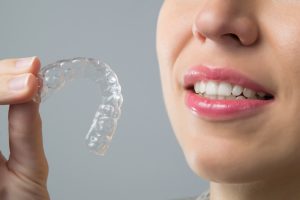 Now is the time to start thinking of the perfect gift for your special teen or adult in your life. What better way to express your sentiments and thoughts than to give someone you love the beautiful smile they always wanted. An Invisalign Smile is the perfect Holiday gift!
For the majority of people, celebrations, parties, holiday treats, cookies and candy are all part of the holiday celebration. But for teens and adults in braces, it can be challenging to say the least. Invisalign gives a person the freedom to enjoy the holiday season and all of the things that come with it. It is also a time for laughter and lots of family photos. Is there someone in your family or special loved one who never smiles for the camera because they are embarrassed about their teeth and their smile? Invisalign is the perfect solution and the ideal way to show them you care.
The look of a person's smile can affect their level of satisfaction and happiness in life. If they are uncomfortable smiling because of crowding, spacing, or are embarrassed how their smile looks…Invisalign can improve their self-esteem and benefit their social life and career success without being self-conscious about wearing braces. Straight teeth can also help an individual to effectively bite, chew and speak and contributes to healthy teeth and gums. Teeth that work better also tend to look better. An attractive smile is a pleasant "side effect" of orthodontic treatment.
What Is Invisalign?
Unlike the more traditional braces or retainers, Invisalign is a virtually invisible method of straightening your teeth. With Invisalign, patients are fitted with removable, see-through aligners that have been specifically crafted to fit your teeth using 3D imaging.
These aligner trays are made of smooth, comfortable and virtually invisible plastic that you wear over your teeth. They gradually and gently shift your teeth into place. There are no metal brackets to attach and no wires to tighten. You just pop in a new set of aligners approximately every two weeks, until your treatment is complete. You'll achieve a great smile with little interference to your daily life. You remove the aligners during brushing and eating which makes it much easier to keep your teeth clean and allows you to eat all the foods you enjoy.
So consider giving yourself or someone you love the gift of a beautiful smile for the Holidays. Sosebee and Britt Orthodontics is an Invisalign® Preferred Provider for the State of Georgia. Contact our Gainesville or Oakwood GA office today to schedule a complimentary initial consultation to determine if you are an Invisalign candidate. Keep smiling and Happy Holidays!