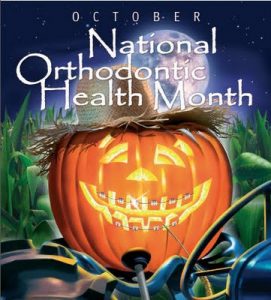 Orthodontic Health Month…You probably are not aware that this even exists. Well it certainly does. October is the designated month to increase peoples' awareness regarding oral health and beautiful smiles. A beautiful smile can open so many doors in both your social life and business life.
The Team at Sosebee and Britt Orthodontics wants you to join us in celebrating the power of a smile during October. No matter what your age…a perfect smile is one of your best assets. People everywhere appreciate a friendly smile so make sure yours is maintained on a daily basis. Of course, if you need help in getting that beautiful smile you always wanted and deserved, we are here to help you get it. We help patients of all ages gain self-esteem and confidence in how they present themselves to the world.
So help us spread the word in Gainesville and Oakwood GA that October is National Orthodontic Health Month and its purpose is to reinforce the need for an orthodontic evaluation. You are never too young or too old if your bite or smile needs correction.
Remember…there are many benefits to straight teeth. When your teeth are not straight and evenly spaced, there is a much higher likelihood that there will be hard-to-reach spaces that do not receive the proper treatment from your daily cleaning routine. As a result, unwanted plaque and tartar can build up unnoticed. Over time, this can lead to such serious consequences as tooth decay, gum disease, or even tooth loss. Since no one enjoys spending time in the dentist's chair having root canals, fillings, and oral surgery, it is important to stay on top of your oral hygiene.
Sosebee and Britt Orthodontics specializes in leading edge orthodontics. We use the very latest and most innovative technology. It is never too late to receive a beautiful healthy smile for a lifetime. Contact our Gainesville or Oakwood GA office today to schedule a complimentary smile exam to find out how we can help you create a smile for you and your future.